Time to get rid of ol' reliable. I need something LAN-worthy, and a 26in tall steel case isn't gonna do it. So the plan was to get this:
into this: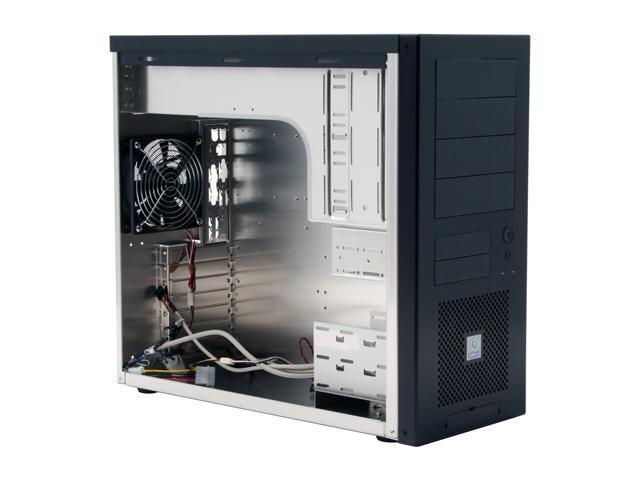 Here's the case:
Fitting the heatercore with the power supply. Damn close fit! I measured before I bought and got this case specifically because it would fit my stuff in this manner.
I have a little trick up my sleeve that gets me 100% surface area usage without a shroud

The block is...BLEEDING! Nope, it's a household acidic solution - ketchup! Cleans copper perfectly, as you can see from the fuzion block on the left, which was black and looking pretty rough beforehand.
Here is a picture of my 8800GT. Believe it or not the ram STILL gets warm. No wonder the ram on these cards fails if overclocked.
And the desk...poor desk. It went from this:
to THIS:
This is the finalized gasket install. Notice the ziptie? I used zipties under the rad to bridge the gap and hold it up, then 2 straps above to pull it down tight. What you end up with is a suspension that doesn't move AT ALL. Yes I could have drilled holes across the case, screwed in dowel rods, or any other oddball way of mounting this, but I chose this way because it required no modification to the inside of the case. Even the pump is taped down with double-sided tape, which works perfectly.
Here is a shot of the clearance between the top and the rad. It's less than 1cm. I would have liked it a bit lower so there was more clearance, but this is good because it keeps the foam gasket nice and tight.
Here is a picture of the finalized system. I would like to clean up the wires a little more, but for now I am just glad to have my computer back in one piece haha. Tweaking, for me, comes with time

Shot from the front, with rheostats for the fans. It's still restrictive at this point, and the CPU gets pretty warm.
Here we go, good temporary fix for my airflow woes.
They are front panels off of my wife's coolermaster case haha. I glanced at her case, said "DAMN!" and started digging around in my parts drawers until I found them LOL.
This allows not only airflow at the bottom-front, but a little in the 3.5 and plenty in the 5.25 bays. This alone dropped my temp 4 degrees C. Now I am finally back to where I was before, with idle temps around 33C on the hottest core.
I swear they look better than the flash shows them to be.
Now I just need to find another 3.5 to match the other one and I might just make this permanent

. Gotta figure out a way to make them sturdy too, since they are just barely staying on the bezel (self-clipping)